Posted on February 2, 2023 by Membership | 1 Comment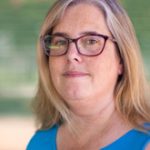 Name: Angela Murrell
Institution: University of Arizona Health Sciences Library, Tucson, AZ
Title: Associate Librarian
Brief description of what you do/your responsibilities at your institution.
I support the College of Medicine – Tucson undergraduate medical curriculum, graduate medical programs, and research and outreach missions of the College of Medicine – Tucson. I provide instruction related to evidence-based practice; provide information services to medical students, trainees, and faculty to support their educational and research needs; and serve on systematic review teams. I also work collaboratively with other health sciences collagues to support the library's mission to cultivate an environment that promotes inquiry, creative endeavor, scholarly communication and lifelong learning.
Why is MLGSCA important to you?
MLGSCA is an important part of my professional life as it provides a network of strong, supportive indivduals that come together to share a connecting love of information, and intellectual values. MLGSCA allows each of us an opportunity to play a small part in making health information accessible to everyone, and opens up roads to personal discovery that we would not have working alone. It extends our reach beyond our library and connects us to colleagues across 2 states and the further.
Why did you become a librarian?
I loved science. However, I could not deal with the uncertainty of laboratory experiments that might not work or getting negative results. I discovered through graduate work at the bench that what I loved most was digging through the information to find that missing piece of knowledge and helping others figure out how to do something. I have always wanted to be a teacher, and being a librarian allows me to stay connected to science, discovery, and to help people learn.
What is your advice to someone new to medical librarianship?
Find a mentor. Take webinars. Never stop learning. No one is really trained to be a medical librarian. I had 1 medical librarian course in my MLIS program. Being a medical librarian can be very different depending on the environment you are in, what group of patrons you are serving (hospital, doctors, nurses, medical students, researchers, undergraduate health sciences, etc.) If you are interested, apply for the job. Learn about MeSH, MEDLINE through PubMed (it's often an interview requirement in academia). Welcome to the field!
What is something you have on your bucket list?
I want to go to Paris, France and visit the castles in Scotland and Ireland.
What is the best thing you have read/watched/listened to recently?
I have to admit I'm a Marvel fan girl, so I have to say the "Black Panther: Wakanda Forever" movie.
What are you most proud of?
I have a wonderful 13-year-old son whom I am raising alone.
Comments