Posted on June 14, 2023 by Angela Murrell | 3 Comments
MLA/SLA 2023 Conference Reflection from Erin Moore, Banner Health
While I missed the window to book a room at the official conference hotels, I was pretty jazzed to land a centrally-located Airbnb spot at the Detroit City Club Apartments. I wound up saving $200 on the cost of lodging. That's a full week's worth of daycare. I'll take it. My elevator ascent to the 29th floor produced a nice view of the city and I was super close to all the things downtown. Score!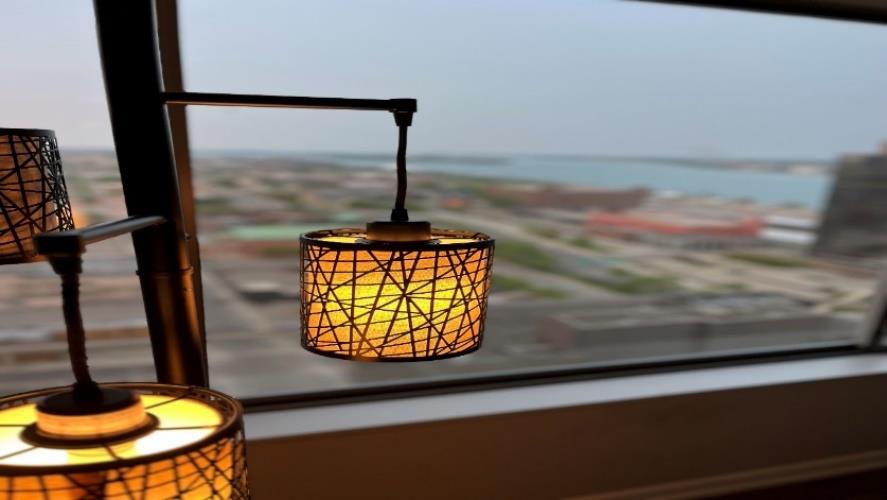 The convenient location was not eclipsed by my fear of being inside of a building that collapses. I write this report just two days after one of the historic buildings in my hometown, known simply as The Davenport, named after its namesake city in my home state of Iowa, has partially collapsed. Somber times here along the Mississippi River in our close-knit community.
Reflections on the Conference
Please know that I'm sharing some highlights rather than a linear presentation of my experience. After a full week and a half to process, I've reflected on the high points.

My morning walk to the Huntington Center turned out to be a highlight of my experience. I loved the energy and anonymity of walking alone in the city. When I arrived at the Huntington Center, I had yet to check-in at the registration desk. Setting foot in the large space, I saw what appeared to be thousands of librarians authoritatively spilling out into the tributaries of the conference center, ascending and descending escalators wearing lanyards, fully nourished, and carrying swag bags.
Practicing the "San Diego Stroll" (the antithesis to the frenetic midwestern shuffle I once exhibited as an Iowan), I made my way into the Grand Ballroom for the first time. An open floorspace along the periphery presented itself and I obliged. I appreciated having the chance to shift around in my body, activate my sleepy muscles, and forego the chair. I'd like to think it's a good move: Sitting Rising Test, anyone? Henceforth, find me on the floor at an MLA conference in the future.
Bright Light
It was important for me to be guided by curiosity and captivation. Putting that intention into practice is another story. I began asking myself a couple of questions with each session I attended: "Is this resonating with me? Why or why not?" If the answer was "no", I made a silent deal with myself to surrender my chair or standing space and find something that did resonate.
A concrete example is helpful. At one point, I had plopped down in a session about collection development that, while informative, wasn't particularly meaningful to me in the moment. I came to the conference for connection, to feel a spark of inspiration. Scrolling through the app, a different session beckoned to me from the 1st floor where I found myself in the presence of powerhouse presenter, Kawanna Bright, PHD at the helm of a packed room. Bright was facilitating a leadership symposium called "It's Not Them, It's Us: Understanding and Addressing the Factors that Negatively Impact the Recruitment, Hiring, and Retention of BIPOC Librarians". Not only was Bright a force, but the conversation that she facilitated was energizing, challenging, heartening.
Long-interested in how librarians can interrupt the status quo, especially through hiring and retaining BIPOC librarians, I participated in discussions on removing barriers to achieve the equity we claim to value in this profession. Around the issue of retention, we discussed real and lived experiences that spoke to:
disconnect between library staff and library management
feeling unvalued
not feeling as though we can fully utilize our skill-sets and talents
being overextended and overworked
not being able to say 'no' when overextended
being automatically assigned to lead or participate on diversity-themed committees
tolkenism
microaggressions and overt discrimination (for example, a Black academic librarian presumed to be a janitor – highlighting multiple layers of bias
isolation; lack of a community
feeling the need to prove oneself or "represent" for an entire ethnic or cultural group
unconscious bias
maintaining harmful traditions to the detriment of others (promoting within instead of inviting all to apply to positions)
This session had me chatting with the folks at my table and scrutinizing and interrogating the "good fit" trope that haunts library job ads. Having a chance to prioritize and discuss these issues –and my role within these systems–was invaluable. Why aren't we discussing these issues in our own libraries? I've been a professional librarian since 2009 and don't recall a head-on discussion initiated by library leadership. If the library isn't a safe space to address these issues, why stay? Elephants in the room, and such.
These conversations that should be normalized are already taking place in the critical librarianship literature (#critlib) and elsewhere. Writing as a librarian with several protective layers of privilege (white, middle-class, cis-gender, non-disabled), I can say that there are a lot of us white librarian ladies reproducing ourselves in this space and benefiting from said reproduction while also purporting to value equity, inclusion, representation. Can we talk about how reproducing the status quo does not further the progression of this profession to be the best version of itself? Still thinking about that session over a week later. That's how you know it was good.
Connection & Self-Awareness
Feeling invigorated, I found my way into my next session. Engaging presenter, Mari Anne Snow gave us great content and practical tips in "Re-Thinking the Definition of Community and Connections in a Virtually Connected World". She immediately asked us to set our devices aside. She commanded our attention: if we are leading in team environments, we need to directly ask for attention and engagement and provide the opportunity to do so. Seems so simple we forget to do it!
One of the things that stuck most was learning how, more than anything else, our state of mind is what sets the tone for digital communication among co-workers and clients. In other words, we see things as we are and not as they are. To boot, the residue of a negative interaction sticks around and taints subsequent exchanges in the online environment . You can extrapolate from there how easy it is for interpersonal communication to go awry in online environments.
How do we course-correct? One tip is to know yourself and call a person or schedule a face-to-face call to create goodwill or foster clarity. Online environments can further muddy the waters of professional communication and relationship if we continue to forego direct forms of communication (phonecall, video call). Practicing self-awareness is critical so you can be purposeful and proactive. I would have liked to delve into how to cultivate critical self-awareness; but that was a bit outside of the scope of the session. There is a stellar self-paced course available from MLA's MEDLIB-ED called "Getting Better at Everything You Do: Reflective Practice for Health Science Librarians". Highly recommended, especially if you're into praxis, journaling, reflection.
Radical Empathy & Vulnerability
The conference app had a useful discussion feature that served its purpose well during Dr. Terri Givens presentation on Radical Empathy and the publication of her book. Her heartening talk was refreshingly conversational. I appreciated that the panel hosts didn't stifle the conversation: instead, moderators posed all or most of numerous questions that came in through the app, prioritizing those that received "upvotes". Dr. Givens beautifully demonstrated how to practice the vulnerability and empathy she advocates for.
What do you do after an inspiring talk on vulnerability? You put yourself out there and go have dinner with people you just met, of course! After delicious tapas at Townhouse, we ventured back to the Grande Ballroom. By day, it had housed hundred (thousands?) of librarians and esteemed keynote speakers. But by night? The space transformed into a under the glow of geometric lights and with a great DJ. It was my understanding that SLA's annual conference culminates in these famous dance parties, and now MLA members got to experience that, too. "All Night Long," performed by the Mary Jane Girls (written by Rick James and covered many times, notably a live performance of Boogie Nights/All Night Long by Erykah Badu in 1997) really set the tone for the rest of the evening. It was high time to ditch the lanyards and let loose.
An after party was organized as we sashayed down Congress street. No one could have predicted we'd end the evening at 1am at Checker Bar. Several SLA librarians took their turns belting out classics, among them Journey's "Don't Stop Believing", Talking Head's "This Must Be The Place" and Bikini Kill's "Rebel Girl". At one point, I witnessed a mosh pit dominated by bibliophiles. A few chatted with Marvin, a local man who was singing throughout the night. To say he was beside himself in the presence of 3 tables full of librarians is an understatement: "Wait," he said in disbelief, and gestured toward the sizable crowd of librarians. "All of these people are librarians?!" "It's true," I said. "Well, you all are the sexiest librarians I've seen in this bar!" Also true, Marvin. Also true.
My adventure at the MLA/SLA 2023, conference, with a theme of "Looking back, forging ahead," was memorable; but I was sad I didn't get around to checking out the Hitsville USA Motown Building. I will say that this conference was special in another way. For the first time, I got to meet my co-worker, Amy, in person. "You're taller than I thought you'd be," she said. I laughed: "Well, you're shorter than I expected". Amy's larger-than-life presence in the online environment seamlessly translated over to the physical environment. She fearlessly approached the microphone during the Q&A portion of the sessions we attended together. There's much to be inspired by there. I half-expected a mic-drop, Amy!
Comments