Posted on | January 27, 2023 | No Comments
Have you ever wanted to run for an office in MLGSCA? Do you have a name of a great colleague you want to pass along? Now is the time!
The MLGSCA Nominating Committee is calling for nominations for the 2023 election. Self-nominations and nominations of others are both welcomed and encouraged by January 30th.
The following offices will be on the ballot this year:
President-Elect (3 year term)
MLGSCA Nominating Committee member – electing two members (2 year term)
Secretary (1 year term)
Treasurer (2 year term)
More details about responsibilities and duties of each office are outlined in MLGSCA bylaws in Article IV Section 1 &2.
If you're interested in or have questions about this opportunity, please feel free to contact anyone on the nominating committee. We'd love to speak/email with you about any of these opportunities and about the personal value of getting involved in MLGSCA leadership.
We hope to hear from you soon!
Rikke Ogawa, on behalf of MLGSCA Nominating Committee
Adele Dobry (2022-23)
Andrea Harrow (2022-24)
Andrea Lynch (2021-23)
Lisa Marks (2022-24)
Rikke Ogawa (ex-officio, chair 2022-23)
Posted on | January 12, 2023 | No Comments
The Awards Committee of the Medical Library Group of Southern California and Arizona (MLGSCA) is now accepting applications for its spring professional development award.
Awards range from $100 – $500.
More than one award may be granted in a year. The Awards Committee screens applications and recommends candidate(s) to the Advisory Council of MLGSCA which has authority to grant the award(s).
For more information, see the Professional Development Award page.
Submit to the Awards Committee chair, David Bickford (dbickford@arizona.edu) by February 15, 2023 for consideration.
Posted on | January 12, 2023 | No Comments
Mark Rojas has been selected as this year's recipient of the MLGSCA student scholarship. Each year, the chapter awards $1500 to an excellent library/information science student who has shown evidence of interest in pursuing a career in health sciences librarianship. Mark is enrolled in the MLIS program at San Jose State University and is currently employed in the Leatherby Libraries at Chapman University. His application was supported by recommendations by his Chapman colleagues David Carson and Ivan Portillo.
Posted on | January 12, 2023 | No Comments
More information and Register Here
Posted on | December 13, 2022 | No Comments
The Membership Committee hosted a "San Diego Librarians Get Together" on Thursday, December 8, 2022 at the Coronado Brewing Company. 
The event commenced at 5 pm and was supposed to go until 7 pm, but we had a such great turnout even on a cold December evening that most stayed until 8 pm! A variety of librarians attended the event – public, special, academic, federal, and hospital.  The librarians enjoyed the local craft beer, yummy food, and had some fun commiserating about our profession. Several SJSU library school students also attended to ask questions and get insider tips on jobs and future possibilities. The get together resulted in some new MLGSCA members as well as new friends and connections in San Diego!  Stay tuned for future MLGSCA events planned for Arizona and possibly the OC/LA area.
Posted on | November 9, 2022 | No Comments
Purpose of Award
The purpose of the Louise Darling MLGSCA Achievement Award is to honor significant contributions to health sciences librarianship, as well as to the Medical Library Group of Southern California and Arizona.
Criteria for Award
Candidate's contribution is significant towards the advancement of health sciences librarianship through the endeavors of the Medical Library Group of Southern California and Arizona.
Candidate's contributions include, but are not limited to: service, publications, presentations, and projects.
Candidate must hold membership in MLGSCA at the time of election and be a member for a minimum of two years.
Nominations are accepted until February 15 using the following form:
https://mlgsca.mlanet.org/forms/Darling.pdf
Posted on | November 3, 2022 | No Comments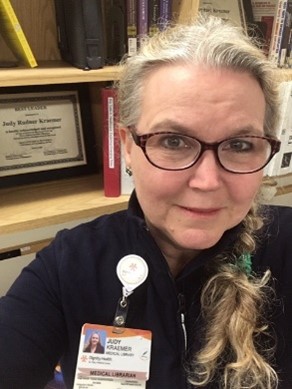 Name: Judy Kraemer
Institution: Dignity Health, St. Mary Medical Center
& Anaheim Public Library
Title: Medical Librarian & Librarian
Brief description of what you do/your responsibilities at your institution.
I am a solo hospital librarian responsible for managing all aspects of the hospital library including but not limited to: library facility, print and online collections: selection/acquisition/licensing, budget, services: reference/research/document delivery/ILL; systems: selection/acquisition/implementation/maintenance – online catalog/link resolver/discovery system/authentication/website, instruction, marketing, Co-Chair of Library Committee, GME & CME Committee member, and collaborate with other Dignity Health librarians on the Dignity Health Libraries website and special projects like the COVID-19 Portal that serves all 140 CommonSpirit hospitals. I also work a day a week for Medical Staff Administration on automation projects including design and management of the department website.
I am a part-time public librarian responsible for reference desk services: adults/teens/children, collection development and weeding including consumer health collection: adult collection, library displays, and library programing: Indie Author Day, Romance Author Day, Big Read (grant writer).
Why did you become a librarian?
I became a librarian because my mom suggested a student library job at which I was influenced by MLGSCA members: Judy Bube, Joyce Loepprich, Steve Clancy, Rochelle Minchow, Susan Lessick, Linda Murphy, and Michael Homan – who worked at the UC Irvine Biomed and Medical Center libraries. These librarians gave me interesting student and then library assistant work that engaged and challenged me to the point that I wanted to be an academic medical librarian and library manager like them.
What is your advice to someone taking on a new role in leadership in MLGSCA, or other capacity?
I advise all members to take a look at MLGSCA leadership opportunities, pick a few, talk to members currently serving in the positions, and volunteer or nominate yourself. Once in a new position, maintain communications with experienced members to learn from them and recruit members to help you. Getting involved in MLGSCA will be rewarding! You will learn new things and gain valuable experiences. The best reward is your new community of new colleagues and new friends.
Is there anything about you that others might be surprised to know?
I lived in Bangkok, Thailand until I was one year old and have traveled with my family while growing up to Egypt, Turkey, Yugoslavia, Italy, Greece, England, Ireland, Belgium, Germany, and France. I studied at the Katholieke Universiteit Leuven in Brussels, Belgium during my MLA program.
What do you do in your spare time, for fun, or to relax?
Before kids (Caroline 18, Michelle 17), I was a competitive sailboat racer and an alternate on the second all women Transpac crew. The Transpac is a yacht race from Los Angeles to Honolulu. Let me know if you want to sail with me out of Newport Beach, CA. Now, I am a sailboat day sailor/cruiser, Girl Scout leader, school volunteer, work as a Public Librarian, and am a chain public library audiobook listener – often while gardening!
Would you like to be featured on the next "I am MLGSCA" blog post?
Send us an email!
MLGSCA Membership Co-chairs:
Karen O'Grady: kogrady@sandiego.edu
Sunny McGowan: mcgowan.sunny@scrippshealth.org
Posted on | October 21, 2022 | No Comments
Last month the CE/Programs Committee sent a survey to the membership asking about preferred training formats and topics. We had 31 responses. After coding the individual responses, the committee produced a presentation with summaries of the findings.
You can download a copy of the presentation in pdf form.
If you have additonal questions, contact the CE/Program chair, Angela Murrell.
Posted on | October 19, 2022 | No Comments
Here are the bios for our 3 candidates for the special election for the 2022 Nominating Committee members. One candidate will be elected to fill the vacant position through 2023, and two candidates will hold positions for 2022-2024.
Adele Dobry
I have been the Health Sciences Librarian at Cal State LA since 2017. Prior to working at Cal State LA, I worked as a Nursing Informationist at UCLA and Public Health/Animal Alternatives librarian at UCD.
Education: MLIS UCLA 2010.
Most recent library and university committee service at CSULA Library:
Library Faculty Council (LFC) and Library Faculty Affairs Committee (LFAC), Secretary: 2019-2021
Library Climate Improvement Team, Secretary: 2019-2022
Library Collection Strategies Committee, Chair Elect and Secretary: 2022-2024
University:
Institutional Animal Care and Use Committee (IACUC), Co-Chair: 2021-2026
External Awards Nominating Committee: 2021-2022
Strategic Planning Coordinating Committee: 2021-2023
Academic Senate, Senator: 2019-2022
University Student Union Board of Directors, Faculty Appointee: 2021-

Fiscal Policy Committee (FIPC): 2022-2025
Medical Library Association (MLA):
Continuing Education Committee (CEC), 2014-2017
NAHRS Nursing and Allied Health Resources Section, Bylaws committee: 2012- 2014
Chapter: MLGSCA Medical Library Group of Southern California and Arizona: 2010- present
Awards Committee Member, 2013-2014
Membership Committee Member, 2014-2015
Membership Chair, 2015-2016
Journal Exchange Committee, Chair, 2018-present
Government Relations Committee, Member, 2018-2020
Professional Issues Committee, Co-Chair, 2022-2023.
Andrea Harrow
Andrea Harrow, MLS, AHIP-D has spent much of her career as a solo, clinical librarian, most recently at PIH Health Good Samaritan Hospital, Los Angeles.  She is an expert librarian providing evidence-based references, resources and training to hospital, medical, teaching staff and patients.  Andrea served MLGSCA as Co-chair of the 2018 MLGSCA/NCNMLG Joint Meeting, and was Chair of the Professional Issues committee 2015-18. She has continually served MLGSCA in some capacity as an active committee member or chair since 2006.  Andrea is lead author of a collaborative special paper published in the April issue of the Journal of the Medical Library Association entitled, "Hospital library closures and consolidations: a case series," which was generated out of a special session at the MLGSCA/NCNMLG Joint Meeting in Scottsdale, AZ in 2018. 
Statement of Aims: I am passionate about engagement, collaboration and communication in libraries and across healthcare. We need to be strong advocates for our libraries and our profession and strategize on how best help each other and ourselves in a changing research, education and patient care environment
Lisa Marks
Education
California State University Northridge, Northridge, California – BA, Liberal Studies 05/1989
San Jose State University, San Jose, California – Masters, Library Science    05/1991
Professional Memberships and Services
Medical Library Association
Member 1998-Present
Academy of Health Information Professionals, Distinguished Member 2010-Present
Fellows and Honorary Members Jury, Member 2017-2018 & 2019-2020
Hospital Libraries Caucus
Finding Work-Life Balance: Strategies for You and Your Institution Webcast, Participant 2009
Professional Development Committee, Member 2011-2013
Professional Issues Committee, Member 2007-2008
Leadership and Management Caucus, Member 2014-Present
Medical Informatics Caucus, Member 2016-Present
National Program Committee , Member 2015-2019
2022 Annual Meeting, Co-Chair 2021-2022
Nominating Committee, Member 2020-2021
Professionalism and Leadership Domain Hub, Chair 2020-2022
Research Caucus, Member 2016-Present
Medical Library Group of Southern California and Arizona
Treasurer Elect 2004-2005, Treasurer 2005-2007
President Elect 2008-2009
President 2009-2010
Awards Committee
Member 2011-Present
Continuing Education Committee, Member 1999-2000, Chair 2008-2009
Co-Chair 2010-2011
Joint Meeting Planning Committee, Continuing Education, Co-Chair 2012-2013, Plenary Sessions Co-Chair 2015-2016
Newsletter Committee Member 2001-2002
Nominating Committee, Chair 2010-2011, Member 2014-2016
Professional Issues Committee: Chair 2011-2013
Public Relations Committee
Chair 2002-2004
Symposium Committee (Spring), Chair 2012
Posted on | October 13, 2022 | No Comments
Carrie Grinstead of Providence Health in Burbank, CA is this year's recipient of the MLGSCA Professional Development Award. Carrie plans to use the funds provided by the award to attend the Western Institute of Nursing (WIN) conference in Tucson in 2023. She plans to present as part of a symposium called "Creating Infrastructure to Support Clinical Scholarship across Multiple Hospitals." Carrie received a master's degree in 2014 from the University of British Columbia and is active in MLGSCA. She has a strong interest in interdisciplinary work, and nurses are currently her largest patron group.
Posted on | October 13, 2022 | No Comments
Karina Kletscher of Creighton University's health sciences campus in Phoenix is the recipient of this year's AHIP First-Time Applicant Award. Karina is an early career librarian who has been serving as Creighton's reference and instruction librarian in Phoenix since 2021. She holds a master's degree in Library and Information Science from the University of Maryland and a bachelor's degree in narrative studies from the University of Southern California. Karina is active in MLGSCA and MLA and currently serves as the treasurer for Central Arizona Biomedical Librarians (CABL) in Phoenix.
Posted on | October 4, 2022 | No Comments
The CE will immediately precede the MLGSCA Fall General meeting.
The MLGSCA meeting will be 12:30 -1:30 PDT/MST on Thursday, Oct. 20 and will use a separate Zoom link from the CE (check your email for details). I will be sending out an agenda and Spring meeting minutes closer to the meeting.  The first 10-15 minutes will include some social time to allow CE attendees a quick break. We will have elected officers and committee chairs introduce themselves then move on to business items. 
Please send agenda items to me at angelamurrell@arizona.edu
The Fall CE ("Planning for Systematic Review Success: Reference Interview & Protocol Development") will be from 11:00 am – 12:30 pm PDT/MST and is being co-hosted by MLGSCA through a Professional Development grant received from NNLM Region 4 for our Arizona members, and through the generous support of NNLM Region 5 for California.
If you wish to attend the CE please register here (link provide by Region 5) by Oct 18 or sooner as CE seats are limited.
keep looking »