Posted on | July 31, 2017 | No Comments
Medical Library Association is accepting nominations for the 2019 Doe Lectureship in August 2017. Nominations are due by November 1, 2017.
Call for Nominations for the 2019 Janet Doe Lectureship

The Janet Doe Lectureship is a unique award, offering both significant recognition and the opportunity to present a major plenary session lecture at the annual meeting of the Medical Library Association. "The Janet Doe Lecturer is an individual chosen annually by the Medical Library Association for his or her unique perspective on the history or philosophy of medical librarianship."

Nominations for the 2019 Doe Lectureship, to be delivered during the MLA annual meeting in Chicago, IL, will be accepted starting in August 2017.

Nominations are due to the MLA Headquarters by November 1, 2017, and should be submitted by members of the Association. Self-nominations are accepted. General information, criteria, and the nomination form can be found at the following link: http://www.mlanet.org/p/cm/ld/fid=243.

For more information, please contact the Doe Jury Chair, Elizabeth Hinton (ehinton@umc.edu).

2017-2018 Janet Doe Lectureship Jury:

Elizabeth Hinton, Chair: University of Mississippi Medical Center
Dede Rios: University of Incarnate Word
Ellen Rothbaum: North Shore University Hospital
Chris Shaffer: Oregon Health & Science University
Linda Walton: University of Iowa Libraries
Maria Lopez: MLA Staff Liaison
Posted on | July 27, 2017 | 1 Comment
The Planning Committee announced a call for abstracts for the upcoming MLGSCA & NCNMLG Joint Meeting 2018. Papers, lightening talks, and posters are welcome. The 2018 Joint Meeting will take place in Scottsdale, AZ, for four days, from January 21 to January 24, 2018. Abstract submission deadline is November 1, 2017.
The 2018 MLGSCA & NCNMLG Joint Chapter Meeting Planning Committee is soliciting submissions for contributed papers, lightening talks, and posters for the upcoming meeting: Crossing the Canyon: Bridging Divides and Navigating Waters, January 21 – 24, 2018, in Scottsdale, AZ.

We want to hear from you! Papers, lightening talks, and posters may describe any research or practice of interest to the medical library community.

Presenters should be prepared to speak between 12-15 minutes. Lightening talks are limited to five minutes, and serve as a way to participate in the conference in a less formal manner than a contributed paper.

Note: Contributed papers are oral presentations; a complete text of the paper is not required.

ABSTRACT SUBMISSION DEADLINE: November 1, 2017

You will hear back from us before the early registration deadline on November 15.

For POSTERS:

Submit a copy of an abstract (approximately 250-300 words) describing the poster.
Please list all presenters and institutional affiliations.
Please let us know if you need a table.
Maximum poster size 42" high by 60" wide.
Please place "POSTER PROPOSAL" in the subject line of your message and email to Hella Bluhm-Stieber, Poster Session Chair, Janene Wandersee, and Carmen Huddleston:

Hella Bluhm-Stieber
hella.bluhm-stieber@hhs.sccgov.org
408-885-5654

Janene Wandersee
janene.wandersee@bannerhealth.com
602-839-5761

Carmen Huddleston
chuddleston@stanfordhealthcare.org
650-723-9933

For PAPERS:

Submit two copies of your abstract (250 words maximum), which accurately conveys the subject of the paper, its scope, conclusions, and relevance to medical libraries. The first copy should list all authors, institutional affiliations, and email and phone number of primary contact. The second copy will be used in a blind review process and should not include any information identifying authors or institutions.
Please place "CONTRIBUTED PAPER PROPOSAL" in the subject line of your message and email to Caroline Marshall and David Bickford, Programming Committee chairs:

Caroline Marshall
caroline.marshall@cshs.org
310-423-2315

Bickford, David L – (dbickford)
dbickford@email.arizona.edu
602-827-2407

For LIGHTENING TALKS:

To propose a Lightning Talk, submit two copies of the description of your topic (approximately 100 words), which convey the subject of the talk, its scope, conclusions, and relevance to medical libraries. The first copy should list all authors, institutional affiliations, and email and phone number of primary contact. The second copy will be used in a blind review process and should not include any information identifying authors or institutions.
Please place "CONTRIBUTED LIGHTENING TALK" in the subject line of your message and email to Caroline Marshall, Programming Committee chair:

Caroline Marshall
caroline.marshall@cshs.org
310-423-2315

Bickford, David L – (dbickford)
dbickford@email.arizona.edu
602-827-2407

See you in Scottsdale!
Visit http://mlgsca.mlanet.org/joint2018/ to learn more.
Posted on | July 14, 2017 | No Comments
Below is a message from MLGSCA President-Elect Kelli Hines:
Dear MLGSCA members,

Greetings from your new President-Elect! One of my duties is to coordinate continuing education (CE) opportunities for our chapter. Please take a few minutes to share your thoughts in the following survey:

https://westernu.az1.qualtrics.com/jfe/form/SV_6tzaeauREzhwitn

Thank you in advance for your time. Your feedback will help us create CE courses and webinars that will be valuable to you in your professional development.

Sincerely,

Kelli Hines
MLGSCA President-Elect
Posted on | June 30, 2017 | No Comments
On June 29, 2017, Kathleen Carlson, MLS, AHIP, Chapter Liaison to the MLA Credentialing Committee, announced Ivan Portillo of Marshall B. Ketchum University and Melissa Johnson of Northern Arizona Unversity (NAU) Phoenix Biomedical Campus Library as the 2017 MLGSCA First Time AHIP Awardees. Below was Carlson's announcement: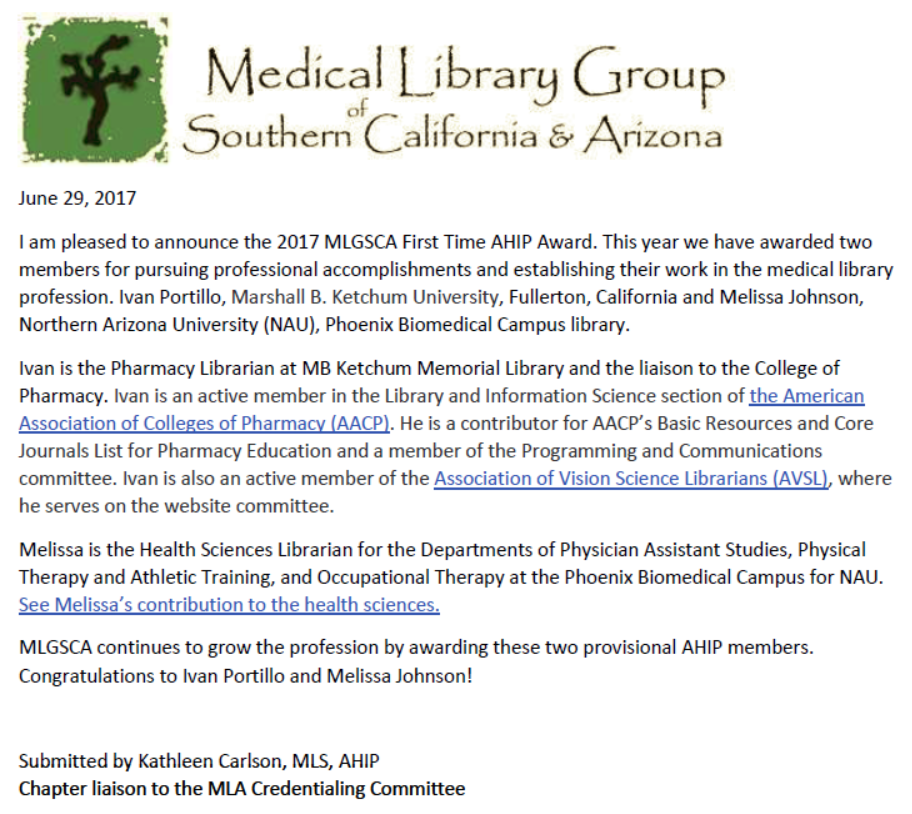 2017 MLGSCA AHIP Award Announcement
---
To learn more about the MLGSCA First Time AHIP Award, visit http://mlgsca.mlanet.org/beta/index.php/awards/professional-development-award
Posted on | June 23, 2017 | No Comments
Check out Kathleen Carlson's article "Librarian Participation in Biomedical Informatics Education and Practice", published in the Journal of Hospital Librarianship. The article discusses experiences with the biomedical informatics program at the University of Arizona College of Medicine-Phoenix. Congratulations Kathleen!
Posted on | June 22, 2017 | No Comments
You must be wondering how much MLGSCA has changed. We have been occasionally updating you with the information we have through our website and our social media platforms. The most recent updates included:
More changes and updates to come:
Directory to be replaced.
Leadership (i.e. Committees, Committee Chairs, and Officers) contact information to be updated and made available.
Connection between you and the upcoming 2018 Joint Meeting.
Thank you for your patience.
Posted on | June 9, 2017 | 1 Comment
My first MLA meeting was an amazing experience. At the New Members/First-Time Attendees Breakfast on Sunday morning, MJ Tooey presented the Medical Library Association as the "professional home" for health science librarians. The meeting absolutely helped me feel more at home in MLA, and it increased my love for the medical library profession.
The First-Time Attendees Breakfast included a speed-dating session, in which we had three-minute conversations. I got to reconnect with librarians I met at MLGSCA last year and to meet librarians from all over the country. In my work with Providence Health & Services, I'm part of a team that is distributed across four states; since I work alone most of the time, it was invigorating to connect face-to-face with fellow health science library professionals.
Teresa L. Knott's Presidential Address made me proud to be a member of MLA. I was especially happy to hear her report on advocacy efforts at the national level, including a trip to Washington, DC in April to advocate for continued funding for the Institute of Museum & Library Services.
The plenary sessions were extraordinary. Julie Angus has made it her life's work to use expeditions as analogies for big projects in life. I would never have thought analogies could be drawn between library work and rowing across the Atlantic Ocean, but the lessons Ms. Angus presented can definitely be applied to any challenge. Perhaps most important was her recognition that change can be hard to deal with, and it is in our nature to seek stability. However, learning how to embrace opportunities is crucial for our success and happiness. Julia F. Sollenberger used concepts from the biopsychosocial model of health and disease to deliver a moving message about compassion and kindness. Her words were especially welcome given the contentious political climate in this country.
I hope to incorporate outreach to patients and consumers into my professional work. The chapter roundtable lunch on consumer health gave me great ideas for doing this, as did a session on the Engage for Health program.
I attended several exciting lightning talks, including a report on a project to harvest and organize CDS content following a migration from a home-grown EHR to Epic. I'm about to finish a graduate certificate in clinical informatics, and so I loved hearing about librarians applying their skills to clinical systems. I also got to learn about informatics projects through poster sessions, and I particularly liked reading about a project involving embedding evidence into clinical order sets. Other lightning talks and posters exposed me to practice areas in which I don't have much experience, such as contract negotiation.
In addition to the packed programming, the meeting gave me a chance to meet three of the other librarians on my team at Providence for the first time, touch base with supervisors from positions I held as a student, and start new friendships. It was an extremely busy and fulfilling weekend, and I'm excited to engage more with MLA through MEDLIB-ED courses, section and chapter memberships, and future national meetings.
-by Carrie Grinstead
Posted on | June 7, 2017 | No Comments
Andrea Harrow was one of MLGSCA's Spring 2017 Professional Development Awardees (see http://www.mlgsca.mlanet.org/newsletter/?p=5866). As an awardee of our Professional Development Award, she was required to provide a 500-word summary on her professional development activity for our blog. The following is her summary of her attendance at the Medical Library Association 2017:
MLA2017 – the Reprise:  My salutations and thanks are due to MLGSCA and the Awards Committee for approving my professional development grant request.  Wow, what a whirlwind it was attending MLA2017: Dream, Dare, Do.  The best part for me was connecting with colleagues, or as MJ Tooey (University of Maryland, Baltimore) would say, "frolleagues" (pronounced frah-leagues) these are our friend-colleagues.  MJ welcomed mentors and mentees at the New Members/First-Time Attendee breakfast on Sunday morning, bright and early 7am.  We ate and rotated through speed-dating-like 3-minute introductions to several librarians.  I formally introduced myself to my first-time attendee roommate Helen Chang (St. Joseph's Medical Center, Stockton,) met my assigned mentee Joy Rodriguez (Kaiser, Fresno) and chatted with a couple other first-timers.  MJ reminded us to keep a smile on and introduce ourselves and start conversations with as many frolleagues as possible as we navigated the conference for the next four days.

MLA and NLM Updates and Plenary Speakers:  Teresa Knott, outgoing MLA President welcomed us both tearfully and joyfully and gave us a synopsis of MLA achievements and goals for the past and future two years, as she bid us farewell.  Teresa's list of accomplishments included working on the MLA Competencies for Lifelong Learning and Professional Success.  All MLA members are encouraged to review the competencies on the new educational platform MEDLIB-ED (on MLAnet.org) and complete a self-assessment on how we are doing and where we need more education and experience.  Teresa also announced a newly endowed MLA Research department that would bestow grant monies to MLA members seeking research support.

John P McGovern Award lecture:  Calling all Adventure Librarians… Julie Angus, adventurer, author and scientist said she could have used your help when she and her husband were preparing to travel 43,000 miles by bike and rowboat to circumnavigate the planet.  The dream may sound extreme, but the actuality of what they endured, hurricanes, near-misses with freighters, unrelenting sun and 4 months at sea, almost defies belief.  Some considered the couple foolhardy, but I think they proved themselves well prepared and resilient to have survived an unusually early and perilous hurricane season… in a rowboat!

The Open Forum later that day, "Activism in a Time of Turbulence" gave us some reassurance that change is the only constant.  Katie Gibbs explained to us that Canada had gone through anti-science rhetoric and policy under the previous Harper administration, similar to what we are now experiencing under Trump.  She is affiliated with the group Evidence for Democracy which asks Canadian politicians to take the Science Pledge to safeguard "honest and timely communication of scientific information; and make public the evidence considered in government decisions."

Janet Doe Award Lecture: Julia Sollenberger (University of Rochester) presented, "Looking inside Ourselves: A Culture of Kindness" and asked us all to look inside ourselves toward a bio-psycho-social model of health and disease.  Julia had attended a four-day retreat near Rochester, MN to get inside and experience mindfulness herself.  She cited eminent physicians and their work with evidence-based mindful practice and stress reduction in healthcare.  These same practices are translatable to any workplace environment, or relationship.  "We have control of how we interpret reality and our response to it."

Joseph Leiter NLM/MLA Lecture: Patricia "Patty" Flatley Brennan spoke with passion about Data Powered Health and the NLM being a Platform for Discovery, and a Pathway to Engagement.  NLM will be a hub (not a dump!) for data science, and will Collect and Preserve with Purpose.  Patty reported that data sets and models would be searchable with a PubMed-like interface.  NLM will provide a resource center for storage options to make data access fair, will provide guidelines, and train the next generation workforce of data science specialists.  Policy will emphasize permissive and confidential access to data.  Technology will enable "Care between the care" – going where care happens, i.e. cellphones and home devices to bring continuing care and alerts back and forth between the patient and provider.

Plenary Session 5: Hope Jahren, award-winning scientist, professor of geo/paleobiology, and author read to us from her best-selling book, Lab Girl, 2016.  Hope would be anyone's dream professor but she had some outdated ideas about libraries and librarians, "static and dependable" were the terms she used to describe libraries.  I guess we still have some work to do in upending stereotypes and preconceived ideas about librarians.  I wish Hope could have recognized us as fellow scientists.

Diversity and Inclusion, and Relevant Issues:  I attended a forum, presentations and Special Interest Group (SIG) for these two topics which shared many of the same social justice, human rights concerns.  Our "differently-abled" friends, colleagues, and patrons are also known as "functionally diverse."

Clinical Librarian:  This was another conference education theme that appealed to me.  In addition to established clinical rounds with medical students and resident programs, clinical librarians are finding consult opportunity during "turnover rounds" as well as with patient information consults during hospital stays.  A patient information consult has an ICD-10 code for billing, but not yet so for library consult.

MLGSCA, NCNMLG, Grants & Scholarships Committee business meetings: Chapter, Section, and SIG meetings offer another opportunity to meet and collaborate with frolleagues.  The MLGSCA meeting offered opportunity for discussing educational, recruitment and social connection needs.  With the plethora of MLA webinar offerings, local face-to-face meetings with a CE component are gaining value and may be making a comeback.  Knowing the MLA webinar schedule in advance will help Chapters to plan topics that complement, but do not duplicate MLA CE offerings.  MLGSCA Library tours and happy hours were also proposed, as was mentoring for publication and poster creation.

What I missed… I missed plenty!  I do regret missing the Hospital Libraries Section, Cancer Libraries Section meetings due to concurrent scheduling conflicts.  I am extremely humbled to have received the Scroll of Exemplary Service from the HLS. It means a lot to a solo librarian to be recognized by her peers!

Submitted by Andrea Harrow (Good Samaritan Hospital, Los Angeles)
Congratulations, Andrea, once again.
---
To learn more about the MLGSCA Professional Development Award, visit http://mlgsca.mlanet.org/beta/index.php/awards/professional-development-award
To read more about MLA2017, visit http://www.mlanet.org/p/bl/et/blogid=82&per=40&sort=0
Posted on | May 24, 2017 | No Comments
To Danielle Linden on receiving the MLGSCA Louise Darling Award
From Danielle:
I can't even begin to express my thanks to the group for considering and awarding me with the Louise Darling Achievement Award.
The list of previous recipients is impressive, and so many of them mentored, supported and influenced me when I began my career as a medical librarian in the mid-2000's.
As AC members we all know how challenging it can be to volunteer our time and energy to our group.
But I can honestly say I wouldn't be where I am today if it weren't for MLGSCA and our members.
Laura and Caroline coordinated with my director to make the announcement a huge surprise at my management team meeting in front of 150+ managers, directors and executives.
Again, thank you so much for the honor.
Sincerely,
Danielle
Posted on | May 18, 2017 | No Comments
On behalf of the Awards Committee
to our Spring 2017 Professional Development Awardees
Carrie Grinstead
Andrea Harrow
Posted on | May 4, 2017 | No Comments
We are pleased to announce your 2017 MLGSCA Officers.  57% of eligible members voted and the results are:
President Elect: Kelli Hines
Secretary: Melissa Johnson
Treasurer: Jennifer Dinalo
Nominating Committee: Rebecca Davis, Janene Wandersee
MLGSCA 2016-2017 Nominating Committee:
Danielle Linden, Chair (2016-2017)
Amy Chatfield (CA), (2015-2017)
Norma Layton (CA), (2015-2017)
April Aguinaga (AZ), (2016-2018)
Sunny McGowan (CA), (2016-2018)
Posted on | March 14, 2017 | No Comments
Candidates submitted by your MLGSCA 2016-2017 Nominating Committee:
Danielle Linden, Chair (2016-2017)
Amy Chatfield (CA), (2015-2017)
Norma Layton (CA), (2015-2017)
April Aguinaga (AZ), (2016-2018)
Sunny McGowan (CA), (2016-2018)
President Elect
Yamila El-Khayat
Bio:
Yamila is the Outreach Services Librarian for the University of Arizona Health Sciences Library. As a medical librarian she has been determined to increase health literacy by better serving the needs of the underserved populations by improving access to Native American, Hispanic, border, Evidence Based Practice, Cross-Cultural, bilingual and culturally appropriate consumer health related information. She has experience leading information training for clinicians, students and community members including health promoters. She is trilingual, English, Spanish, and Portuguese and comes from a culturally diverse household.
Yamila received both her B.A. and M.A. from the University of Arizona. As a Library school student, she was a part of the Knowledge River Program, cohort 7, where she gained tremendous knowledge on the need for health information for marginalized communities. Given her language skill set, she was determined to serve these communities and work to bridge the gap between healthcare and minority communities. She now holds a sub contract with the Regional Library where she reaches different groups (Native American, U.S. Mexico Border, K-12) in the state of Arizona and many times in Southern California, offering information literacy courses in Spanish and English. She has been a member of MLGSCA since 2011 and served as a member of the Scholarship and Awards Committee for a number of years.
Statement of Aims:
It is a privilege to be considered for the President-Elect officer position for MLGSCA.
Throughout my career as a medical librarian, I have found that continuing education (CE) has helped shape and many times re-think how I do the work I do with various communities. I am a lifelong learner and love being on the cutting edge of information technology, helping mold innovative approaches to our field and helping expand our reach. Because of my enthusiasm and eagerness to learn, this has helped keep me be on the leading edge of information technology trends envisioning equal access to healthcare information for all, allowing for everyone to advocate for their own health. I strongly believe that CE is an essential part of MLGSCA and would love to be on the forefront bringing innovative and creative CE's to light, looking at new state-of-the-art technologies or even approaches we never thought of for information professionals.
As an organization, I think MLGSCA has the power to create a community of professionals that can share with one another skills or tactics to help us all grow, but we also have the ability to help influence and guide the new generation of medical librarians, helping recruit individuals to the field and sharing our knowledge creation with them. I envision these relationships developing into not only mentorship opportunities, but partnerships, where large scale projects can be accomplished with the support of many.
Kelli Hines
Bio:
Kelli Hines is a Scholarly Communications Librarian and liaison to the Colleges of Osteopathic Medicine, Pharmacy, and Biomedical Sciences at Western University of Health Sciences. She provides reference and research services and guest lectures on database searching and evidence-based practice. Her previous role was Librarian at Casa Loma College, a small nursing and allied health school. She received a B.A. in English from Pepperdine University in 2004 and an MLIS from San Jose State University in 2011.
Kelli has been actively involved in MLGSCA as a member of the Professional Issues and Membership Committees from 2013-2014 and chair of the Web/Blog Committee chair from 2013-2017. As chair, she oversaw the website migration from Dreamweaver to Joomla and helped consolidate MLGSCA's social media platforms.
Statement of Aims:
I am honored to be considered for the role of President-Elect. Over the past four years of working with MLGSCA, I have observed strengths, challenges, and areas for growth. My goals are to:
Increase communication between the Advisory Council and MLGSCA membership
Work with MLA to provide resources, education, and training that will allow MLGSCA members to improve their skills and demonstrate their value to their institutions
Create outlets for members to engage with issues of concern to the profession and seek solutions
Pursue local and regional partnerships to increase the reach of our services and improve access to affordable, quality health information (and training in the skills to interpret it)
I believe MLGSCA is well-positioned to make a meaningful difference to its members and the clinicians, patients, faculty, and students they work with. Please vote for the person you think will make (or keep) MLGSCA an organization that will make you proud.
Secretary
Sydni Abrahamsen
Bio:
Hello! I am new to the medical library profession. I began working as a consumer health librarian at Mayo Clinic in Scottsdale, AZ in August of 2016. Prior to that, I worked at Arizona State University in various para-professional roles for 11 years. I completed my MA in Library and Information Science from the University of Arizona in 2014 with a concentration in medical librarianship. I've been a member of MLGSCA and MLA since 2014 and have had provisional AHIP certification since 2015. I presented a poster at the Joint Meeting in 2016 and enjoyed meeting many of the MLGSCA members there. I have a variety of committee/workgroup experience from my time at ASU including as secretary and co-president of the library employee association. I would love to be more involved in MLGSCA and would be honored to serve as your secretary.
Melissa Johnson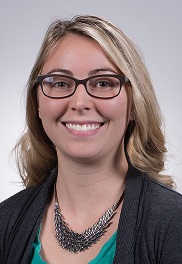 Bio:
As an early career librarian, I am seeking to make contributions to and connections within the health sciences librarianship community, which is why I am running for MLGSCA's 2017-2018 Secretary position. Over the last year and a half, I have served as a health sciences librarian at Northern Arizona University's Phoenix Biomedical Campus, supporting graduate students and faculty in teaching, learning, and research in four allied health programs.
As for professional service, in 2016, I served as a volunteer abstract reviewer of proposals for the MLA'17 Annual Meeting. I also reviewed an MLA publication, The MLA Guide to Answering Questions about the Affordable Care Act. I earned my provisional AHIP credential and am currently participating in the mentorship program as well. In addition, I attended my first MLGSCA/NCNMLG Joint Meeting last year at Stanford University where I learned about Health Sciences Librarian Leadership among many other subjects; I will also be attending MLA'17. Besides MLA and MLGSCA, I am also a member of Central Arizona Biomedical Libraries (CABL); ALA's Library Information Technology Association (LITA) and the Arizona State Library Association (AzLA), both of which I have volunteered for; and the Association of College and Research Libraries (ACRL).
As a semi-solo librarian at a satellite campus, I am familiar and comfortable with working remotely in teams to accomplish goals through Skype, phone, and other teleconferencing means. I also have experience as a former Secretary for a community college's professional staff association. Thank you for considering me for MLGSCA's 2017-2018 Secretary position.
Hannah Schilperoort
Bio:
I am an information services and Nursing liaison librarian at the Norris Medical Library at University of Southern California. Prior to USC, I worked as a health sciences librarian at Stanbridge University (formerly Stanbridge College), a part-time information literacy instructor at Duquesne University, and a library assistant at Carnegie Library of Pittsburgh. While earning my MLIS at San Jose State University, I served as secretary for the ALA Student Chapter during the 2014-2015 academic year. I am new to MLGSCA, MLA, and medical librarianship; I want to become more involved in the wider community, and am enthusiastic about the prospect of serving as MLGSCA secretary.
Treasurer
Jennifer Dinalo
Bio:
Jennifer Dinalo completed her B.S. in biochemistry and mathematics at Regis University. She then earned a PhD in Molecular Microbiology from University of Texas Southwestern Medical Center in Dallas in 2007 and moved on to a postdoctoral fellowship at Stanford studying antibiotics and the human microbiome. A shift in career paths led to a Masters in Library and Information Science from San Jose State in 2013. Jennifer started as an information services librarian at Norris Medical Library and the library liaison to the Keck School of Medicine at USC in November, 2015. Prior to coming to USC, she was an academic liaison librarian at San Jose State University for six departments: biology; chemistry; physics; meteorology and climate science; geology; and biomedical, chemical and materials engineering. Jennifer has been an active member of professional organizations since library school working on committees for national organizations, ALA, ACRL and MLA and local organizations such as the Northern California/Nevada Medical Library Group (NCNMLG) and the SJSU ALA Student Chapter. She was the treasurer for the SJSU ALASC for two years, managing the budget and accounts for the organization. She has been a member of MLGSCA since December 2015 and is currently serving as chair of the MLGSCA government relations/bylaw committee.
Angela Murrell
Bio:
Angela Murrell is the Senior Librarian and manager of the library at Bastyr University, California campus. In her role, she is responsible for planning and monitoring the budget and expenses of the library. Previously, she served as the medical librarian for the Scripps Green Hospital and Scripps Clinic for 10 years. Angela has been a member of MLGSCA since 2005 and served on the MLGSCA CE Committee and Connection Committee from 2009 to 2011. Attending the MLGSCA joint meetings have helped her build and maintain connections within southern California, and eventually to her facilitating a local networking group, San Diego Health Science Librarians. Her interests also focus on instruction, and she was Vice-Chair/Chair from 2012-2014 of another southern California group, Lifelong Information Literacy interest (LILi) group, also serving on the By Laws Revision Committee 2012-2013, the Conference Planning committee 2013-2014 and serval other committees in that group. In addition to her professional involvement, Angela has served on her Home Owners Association Board and assisted with budget and financial matters while on the Board. She has always had a love for "crunching numbers" and keeping careful track of expenditures.
Angela would like the opportunity to give back to the MLGSCA through service as the next Treasurer.
Nominating Committee
Rebecca Davis
Bio:
My name is Rebecca Davis and I have been working as the Information Services Library for the Jennifer Ann Wilson Dental Library at the University of Southern California for a little over a year. I am a member of MLGSCA, MLA, and the American Dental Education Association (ADEA). In addition to being a member MLA, I am also a member of Oral History Committee and the Dental Section. I have had the opportunity to present the research that I am working on with my colleagues Lynn Kysh and Nancy Olmos on microaggressions in the Medical Library Community at the 2016 NCNMLG/MLGSCA Joint Meeting, Statewide California Electronic Library Consortium Colloquium (SCELC), 2016 MLA Annual Meeting, and the 2016 National Diversity in Libraries Conference (NDLC). I have my BA in Political Science from the University of North Carolina at Chapel Hill, MSLS from the University of Kentucky, and Ph.D. in Communication and Information from The University of Tennessee.
Linda Murphy
Bio:
I have a Master's degree in Library Information Study from UC Berkeley, and a BS degree in Health Sciences, Community Health Education from San Jose State University. I have been a Research librarian in Health Sciences with the University of California, Irvine (UCI) Libraries since September 1987.
During my tenure at UCI, I have planned, developed, and implemented various workshops and seminars to enhance faculty, staff, residents, students, and the general public's skills in information literacy and competency and in the area of Evidence-Based Medicine. I co-presented at various accredited CME workshops locally and nationally with medical educators. My research interests include health information literacy, culture competency, health disparities, evidence-based medicine, bioinformatics, information retrievals, bibliometrics, and predatory publishers. I have co-authored numerous of research papers in some of these areas (https://scholar.google.com/citations?user=CN5skVcAAAAJ&hl=en).
In addition, I have served as an editorial member of the Western Journal of Emergency Medicine (http://westjem.com/editors-editorial-board) since 2010.
Throughout my professional career, I have been very active with MLGSCA and have severed on various committees. The duty of a nominating committee is to find the best candidate for each office. With my active role and experience serving MLGSCA, I believe that I am the best candidate for the position. Listed below are the recent MLGSCA committees that I have served.
• Planning Committee for the NCNMLG/MLGSCA 2016 Joint meeting
• Served as one of the three members of the speaker committee for the 2013 NCNMLG/MLGSCA Joint Meeting.
• Served as a member of the Public Relations Committee, 2006-2008.
Ivan Portillo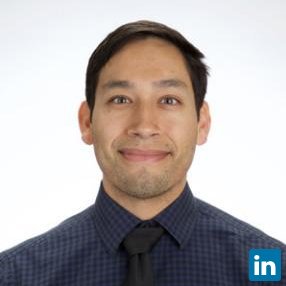 Bio:
Ivan Portillo, MLIS, AHIP, is a pharmacy librarian at the M.B. Ketchum Memorial Library at Marshall B. Ketchum University. He is also the library's liaison to the College of Pharmacy.
Ivan is an active member the Library and Information Science section of AACP. He is a contributor for AACP's Basic Resources and Core Journals List for Pharmacy Education and a member of the Programming and Communications committee. He is also an active member of AVSL, where he serves on the website committee.
Ivan graduated from San Jose State University with a Master of Library and Information Science (MLIS). He also holds a bachelor's degree in Journalism.
Janene Wandersee
Bio:
Janene Wandersee is a librarian at Banner – University Medical Center Phoenix, with 2016 marking fifteen years with the hospital and as a Phoenician. Previously she worked in the social sciences and started in libraries as a library assistant. She earned her library degree from the University of Arizona in 2006 and joined MLGSCA, MLA, and CABL (Central Arizona Biomedical Libraries) while she was in library school. She is currently CABL's treasurer and was Membership Chair of MLGSCA in 2012. She is also a current and past member (2008-2009, 2014-) of MLGSCA's research committee. One of the most enjoyable roles she served with MLGSCA was as co-chair of the contributed paper committee for the 2010 Joint Meeting in Glendale, which was a great way to interact with people across the whole chapter and learn about their libraries. She looks forward to continued involvement with MLGSCA.
keep looking »