Posted on | October 27, 2023 | No Comments
by Sue Espe BBA, MLIS, AHIP-D
The Digital Commons North American Conference 2023 held in Miami, Florida on October 9 – 10th was attended by repository administrators from varying institutions around the country. Attendees gathered together to listen to speakers, panelists and workshop facilitators who delved into future initiatives, passed on best practices, shared their challenges and imparted extensive experiences through storytelling.
It was especially heartening to find several senior executives and program managers in attendance from Digital Commons. They were keen to interact with the attendees to hear their remarks, suggestions and overall feedback. The mutually supportive working relationship between the Digital Commons staff, panelists and attendees was apparent. Many of them have collaborated on projects with each other throughout the years.
Opening remarks were presented by Saad Khan, Vice President Digital Commons. He introduced the keynote speaker, Judy Verses, President Academic and Government markets. Judy spoke with enthusiasm about future endeavors and objectives for the product.
The first panel, moderated by Ann Connolly, Director of Product, and included Todd Bruns, Lee Dotson and Paul Royster, who were referred to as the All-Stars because of their lengthy experience as administrators of Digital Commons, several from its inception. Their Panel was titled, Digital Commons IR All-Stars on the evolving IR landscape: Greatest challenges, key innovations and exciting future trends. To inspire and increase use of the repository, the panel suggested creating monthly dashboards, establishing momentum competition with download alerts, communicating "make Googling yourself fun" and developing shared faculty stories to easily retell. The panel navigated challenges, leveraged RSS feeds and the auto collection tool.
In later panels, key points discussed were related to product enhancements, including a more modern interface, updated platform, expanded user self-service capabilities, scrolling exhibits, and journal reporting tool. The speakers offered numerous best practices, such as recruiting student volunteers to assist with data manipulation because they are digital natives who are smart and are technologically savvy. One recently added new feature, the content inventory tool, was introduced by staff and it is found in the administrative panel of the Digital Commons repository. The tool allows for the download of all material in the repository for analytical review or revisions. Additional panel topics by Digital Commons staff with guests and several rounds of lightning talks enabled group discussion that further highlighted in-depth user stories, experiences and insights.
Out of the Archive and into the Spotlight: Telling the Story of Your Institution Through Digital Exhibits – Alice Sherwood and Courtenay Mcleland, moderated by Ann Connolly
Digital Commons Journals Conversation: Exploring New Frontiers for Peer Review – Promita Chatterji, Ph.D., Ronald J. Chenail, Ph.D., Sigmar de Mello Rode
Envisioning the Future of Scholarly Communications with Digital Commons – Saad Khan
Research Data Management using DC Data: Aligning with Funder Data Sharing Policies – Traci Snowden
Better Together Panel: Provide Comprehensive Showcasing and Research Management Services with Title: Digital Commons and Pure – Randy Love, Todd Bruns, Yoga Raghavaraju, Devica Samsunder, Ashley Sergiadis
One particularly interesting story involved the archival material of Astronaut General Thomas Stafford, which was donated to the Digital Commons repository at Southwestern Oklahoma State University, SWOSU.  He is known for flying two Gemini rendezvous missions and commanding the Apollo 10 mission.  The university is located in the plains west of Oklahoma City in the small town where he was raised in Weatherford, Oklahoma.
The repository at our institution showcases the scholarly works of the numerous highly regarded, distinguished scientific researchers in our hospital who are prolific authors.  It reaches a large audience from around the world, who are interested in their scientific activities.  Supported in an academic healthcare environment, our repository could certainly be considered a special setting.  Being the sole administrator with intermediate knowledge of Digital Commons, it was very beneficial to learn from others in attendance.  Many of the attendees are also solo administrators and in the same predicament with limited staff, resources and time.  Learning from other administrators and interacting with this community at the conference provided me with much more insight into creative potential of the repository.
Sue Espe, BBA, MLIS, AHIP-D, is the Library Services Manager at CommonSpirit Health, Southwest & Midwest Division of Diginity Heath St. Joseph's Hospital & Medical Center.
Posted on | October 19, 2023 | No Comments
MLGSCA is pleased to issue the 2023 Library Staff Excellence Award to two dedicated employees of health science libraries in the region. This year's recipients are Cynthia Heltne of the Mayo Clinic and Mike Bates of the University of Arizona. Cynthia has worked for over 18 years at Mayo where she has demonstrated a consistent commitment to customer service, patient education, and lifelong learning. Mikel was selected for her outstanding work in managing grants, supervising staff, and coordinating the Arizona Health Information Network. Both were presented with their awards at staff events at their respective libraries.
Posted on | October 13, 2023 | No Comments
Gotschall, T., Spencer, A., Hoogland, M., Cortez, E., & Irish, E. (2023). Journals accepting case reports. Journal of the Medical Library Association, 111(4), 819–822. https://doi.org/10.5195/jmla.2023.1747
Posted on | October 5, 2023 | 2 Comments
Name: Zemirah G. (Lee) Ngow, MLIS, AHIP
Institution: University of California, San Diego
Title: Collection Strategist for Life & Health Sciences & Liaison Librarian
Brief description of what you do/your responsibilities at your institution.
I'm responsible for collections in the life & health sciences at UCSD Library. I also currently liaise with our new PA Program, Psychiatry, and Bioinformatics, and assist with our systematic review service.
Why is MLGSCA important to you?
I've always felt the importance of developing and contributing to a community of like-minded professionals who can share common challenges, triumphs, and to be able to discuss pressing issues that immediately affect the work we do. The first half of my career I focused heavily on instruction, but have reached a stage in my professional life where I find myself really wanting to get deeper into the issues that affect medical/health information–teaching, learning, and scholarship. I feel so lucky to have found my life's calling as a librarian focused on issues in the life and health sciences and am very thankful to have found this group. I find that the many varied opportunities for networking and continuing education here have been most valuable to my professional growth, and I embrace the cares and concerns we bring forward that are so unique to our profession.
Why did you become a librarian?
My mom was a thesis shy of graduating to become a full-fledged librarian in the Philippines before she decided to marry my dad and move here back in the 70s. She always told me I should become a Librarian, but because mom told me to do it, it automatically was NOT cool, although I always had it in the back of my mind. I used to work for the County of San Diego and would see the postings for County Librarian positions and took a leap of faith one day and decided to just go back to school… libraries have always been a safe space for my three kids and I when I was a stay at home mom. So originally, I went to school to go into Youth Librarianship in Public Libraries before falling in love with the instruction, reference, research, and outreach component of Academic Libraries… et viola–The rest is history!
What is your advice to someone new to medical librarianship?
Whether you're a solo hospital librarian or lost-in-the-crowd at a larger academic institution or find yourself in someplace between–no one else will really ever understand the unique challenges we face in our little specialty area of librarianship BUT another medical librarian. Find a professional group (like MLGSCA!) to get the help, support, advice, and network you'll need to arrive and thrive in your new roles. Volunteer for everything you have time for and be open to exploring all the new opportunities that come your way because they will open doors to many other exciting adventures.
What do you consider to be the most pressing issues or trends in librarianship?
I have transformative agreements and the hidden gatchas involving open-access agreements on my mind because that seems like all I seem to be working on these days. Today, my answer to this question involves the whole of availability of scholarship and information-seeking behavior in the users who consume this information. Our scholars, researchers, and librarians are facing real challenges in curating, managing, collecting, and disseminating vetted evidence-based knowledge/information. Librarians these days, especially in health for medical/clinical settings, have evolved from bibliographers to having to become jacks and janes of all things with regard to the information we collect, curate, and organize to the teaching of finding and using of potentially complicated resources, to working with our researchers and authors to move our knowledge markers forward.
What is something you have on your bucket list?
To vacation in a resort where I can stay in an overwater bungalow!
Describe yourself in five words.
Grounded, Compassionate, Family-Oriented, Ambivert
What do you do in your spare time for fun, or to relax?
I play video games–depending on my mood, I'll farm crops, or level up skill trees in a survival landscape, or mow down disease ridden zombies and renegade factions! I also love to bake and dig around yard sales or thrift stores for those hidden treasures I didn't know I needed to have!
What are you most proud of?
I'm most proud of my kids. Despite the challenges we've all had as a family over the last decade or so, they've all grown into beautiful, compassionate, skilled, and intelligent people I'm so blessed to get to have in my life. I can't wait to see how their lives continue to develop and the wonderful people they're going to grow up to become.
Posted on | September 15, 2023 | 2 Comments
By Jennifer Silverman, MLIS, University of Southern California
MLGSCA Membership Committee Member
On Thursday, August 3, 2023, a small group of library professionals had a chance to do some of our favorite things: tour other libraries, view interesting NLM exhibits, and socialize. When MLGSCA's Membership Committee found out that UCI's Grunigen Library in Orange was hosting the NLM exhibit, "AIDS, Posters & Stories of Public Health: A People's History of a Pandemic" we reached out to MLGSCA member Rikke Ogawa from UCI Libraries about bringing a group to take a tour of the library and the exhibit. Rikke kindly made the arrangements and even got us free parking at UCI Medical Center!
Grunigen Operations Manager Irene Morris led our small, yet mighty group of six on a tour of the library. Irene pointed out how the library space had been partially remodeled in the past few years and she was proud of the new lobby area.
Irene showed us some of the library's highlights including a beautiful conference room available by reservation. The conference room features a wall of frosted glass with a patterned ombre design. The library also features a separate computer lab that is accessible 24/7 via patron card swipe when the library is closed.
Just off the computer lab is possibly the most exciting thing we saw that day, two high-tech nap pods. Irene mentioned the pods were a result of the research showing how a brief nap can refuel you and allow you to travel home safely. These fancy chairs have all kinds of features. Soothing lights and music help you relax, and the hood comes down to keep out the light. The chair's functions turn off after the specified time limit. Ivan Portillo, MLGSCA's Research Committee Chair, even hopped in the chair to test it out.
We ended the tour by looking at the NLM exhibit. It featured six large posters about the AIDS pandemic. All the posters can also be viewed on the exhibit's supplemental webpage. Some attendees asked about the process of becoming a host library for an NLM exhibit. Irene mentioned that the application process took a while but the arrival of the exhibit materials was easy. She also mentioned the careful planning that went into determining where in the library to place the large posters. Since the posters were only one-sided Irene's team decided it was best against a wall. They even moved some couches so there was a comfortable seating area in front of the posters. To commemorate our time at Grunigen, we took a group picture.
After the tour, most of the group went across the street to Dave & Buster's and spent a few hours socializing and eating. I personally enjoyed hanging out with other librarians and chatting about life and libraries in Southern California. An SJSU library student in his last year of school was part of the group and I was happy to share a long list of library job hunting tools and advice with him. Overall, it was a nice day for a library tour and socializing.
Posted on | September 6, 2023 | 4 Comments
Name: Hector R. Perez-Gilbe, MLIS, MPH, AHIP
Institution: University of California, Irvine
Title: Research Librarian for the Health Sciences
Brief description of what you do/your responsibilities at your institution.
I'm responsible for the collections in the areas of medicine, pharmaceutical sciences and pharmacy, public health, and interim for biological sciences and nursing. I'm the library liaison to the School of Pharmaceutical Sciences and Pharmacy, School of Public Health and interim for liaison for the School of Biological Sciences. Also, part of the Systematic Review Services Team.
Why is MLGSCA important to you?
The main reason to be part of this group is the networking part. Staying in touch with colleagues from the region keep me current in new trends in medical librarianship and informed of the state of other institutions in areas of interest like collections and research.
What was your first library job or professional position?
Head of Government Documents at CUNY City College.
What has been the most interesting project you have worked on?
My first research adventure as an epidemiologist.
What do you consider to be the most pressing issues or trends in librarianship?
Changing the stereotype perception of the general population of what a librarian do. Librarians, specially in the health sciences/medical librarianship role, have evolved into a multiskilled partner with vast knowledge of medical literature and formal training on how to find, access, retrieve, and stored that literature for future use. Medical librarians have a very important role in academic and clinical settings. The challenge has become selling your skills and knowledge on a constantly changing landscape of technology and information in the area of medical/health sciences information. Becoming partner in the areas of research, instruction, and clinical practice, has one big hurdle, getting those constituents to know you and your skills sets and how you can help them achieve their goals. The perception of the work you do by those you serve may be completely inaccurate. Other challenging issues are decreasing library collections budgets and limited contact with constituents due to time limitations.
What is something you have on your bucket list?
Visit Australia.
What is the best thing you have read/watched/listened to recently?
I don't watch much tv or go to the movies, barely have time to read, but I recently watch again one of my favorite movies "Powder". The movie was a critical piece in understanding human nature from the perspective of my believes.
What do you do in your spare time for fun, or to relax?
Cooking, baking, collecting art and framing.
What are you most proud of?
All the achievements that have led me to where I am now.
Posted on | August 30, 2023 | No Comments
by Alan F. Carr, M.L.S., M.P.H., AHIP
Naomi received her MLS from UCLA, followed by a one-year NLM Postgraduate Fellowship at the UCLA Biomedical Library. She also completed all coursework for a PhD in history at UCLA, and earned an MA and BA (cum laude) from California State University, Long Beach. Naomi served as Reference Librarian at the USC Norris Medical Library and completed a year of law school from West LA University in 1970-71, while also serving as Hospital Librarian at Children's Hospital of Los Angeles.
Naomi's last position was the Dean of Libraries at the Pacific College of Oriental Medicine (PCOM) in San Diego, beginning in 2001. Previously, she was Director of the Herrick Library at Grossmont Healthcare District in La Mesa, CA. Prior to her relocation to the NNLM Pacific Southwest Region in 1999, Naomi was the Executive Director of the Houston Academy of Medicine–Texas Medical Center Library in Houston and Director of the NNLM South Central Region for nearly five years. Before that she was the Director of the Biomedical Information Resources Center and Medical Center Library at Dahlgren Memorial Library, Georgetown University Medical Center, for 22 years. Naomi announced her retirement in March 2018.
During her tenure at PCOM and at the Grossmont Healthcare District, Naomi and I developed a close working relationship. Naomi could be counted on to participate in an NNLM focus group, assist at an NNLM exhibit, contribute to any NIH or NLM Request for Information, or provide other needed assistance to the RML. Naomi had an exceptional track record of successfully applying for NNLM and NLM outreach awards.
A particularly notable result of Naomi's successful efforts with the Senior Health Project: Access to Electronic Health Information in San Diego was the PCOM Library being named one of the top ten finalists for the 2006 U.S. National Commission on Libraries and Information Science (NCLIS) Health Information Awards for Libraries. In addition to NNLM outreach awards, Naomi also successfully competed for several NLM HIV/AIDS Community Information Outreach Program awards, furthering outreach penetration in the San Diego area. She also received an NLM Disaster Health Information Outreach & Collaboration Award in 2012, to conduct a project reaching out to San Diego County's Community Emergency Response Teams (CERT).
Naomi accumulated an extensive list of professional honors, awards, and contributions during her long career. She served as President of the Medical Library Association (MLA) in 1996-97. Naomi received MLA's Marcia Noyes Award in 2003, the association's highest professional distinction. She was named an MLA Fellow in 1995 and a Distinguished Member of MLA's Academy of Health Information Professionals. Naomi was the 21st editor of the Journal of the Medical Library Association (formerly the Bulletin) from 1991 to 1996. In 1986 she received MLA's Frank Bradway Rogers Information Advancement Award. In service to the National Library of Medicine, Naomi was a member of a Planning Panel for the NLM Long Range Plan (2000-2005) and a member of the NLM Biomedical Library and Informatics Review Committee. In 2015, Naomi received MLA's first Hispanic Heritage Award in recognition of her past accomplishments in medical librarianship and library informatics. She co-founded the Friends of the NLM and served as Secretary of the Board of Directors.
Naomi was the Principal Investigator of the Georgetown University IAIMS Program, an NLM grant program. She oversaw development of the Georgetown University Library Information System, which included a "Mini-MEDLINE" search system component. She authored over 200 scholarly journal articles, two books, and presented papers at national and international library conferences. At other related associations, Naomi was Secretary and Board member of the American Medical Informatics Association (AMIA) from 1992-1996 and was elected Fellow of the American College of Medical Informatics (ACMI) in 1989-90. Other professional honors include the Special Libraries Association (SLA) 1999 Winifred Sewell Award, the SLA 1987 Professional Award, and the Vicennial Award from Georgetown University in 1995. She was an active ALA member her entire career and was a lifetime member of ALA, MLA and retired member of AMIA/ACMI.
Personally, it was a joy to collaborate with Naomi. I especially relished her volunteer assistance at NNLM exhibits and the chance to hear some of her many tales about the profession. Her fluency in Spanish often came in handy! When I encountered her at MLA Annual Meetings, she would gladly introduce me to people in her vast network of colleagues, including current NLM director Patti Brennan. These contacts were invaluable to me as the NNLM PSR Associate Director.
Naomi was very generous. She endowed the MLA Naomi C. Broering Hispanic Heritage Grant. Never forgetting her roots at UCLA, she donated to a scholarship fund at the Graduate Program in Library and Information Studies. Naomi was always invited to the annual dinner honoring the contributions of donors and the scholarship recipients. She often had scheduling conflicts with the dinners, and offered me her ticket to attend in her stead. I always appreciated this opportunity to maintain contact with the faculty and students.
The totality of Naomi's career had a tremendous impact on the profession. Her considerable knowledge and boundless enthusiasm were priceless assets, which will be greatly missed by many. I will always treasure the memories of Naomi as a friend and colleague.
Naomi is survived by her husband, Gregory Chauncey, and two nieces, Emily Albrecht and Jaye Meyer. To remember Naomi, donations can be made in Naomi Broering's honor to the Gregory A. Chauncey and Naomi C. Broering Engineering Veterans Scholarship at the University of California, San Diego (UCSD), or to the Naomi Cordero Broering Endowed Scholarship Fund (#31359C) at the UCLA Foundation.
Alan F. Carr, M.L.S., M.P.H., AHIP,  acarr@ucla.edu, is the retired Associate Director, NNLM Pacific Southwest Region, UCLA L. Darling Biomedical Library, Los Angeles, California, 90095.
Posted on | August 11, 2023 | No Comments
Today's coffee chat on "How to say 'No', or what to eliminate when there's too much to do," was a wonderful discussion among 11 colleagues at a variety of different institutions and library types.
We discussed many situations where we felt the need to say "no" to too many requests, interruptions, and sometimes patrons and colleagues.
We discussed ways to deal with excessive requests for systematic review and literature search requests. University of Colorado uses a Professional Literature Search Service (https://library.cuanschutz.edu/services/librarian-services/prof-lit-search) request form and charges a fee for Systematic review services (not to students) of $300 for a full search strategy. Plus librarians must be co-authors. They also include a notice of a waiting period when they get backed up right on the website.
Managing your time and how many tasks or services you volunteer for can be difficult. Remembering the time commitment and setting aside enough time for each activity is challenging. Several participants discussed using tools to help manage their time. Excel can be used as a simplified project manager. Some librarians use their calendar to track weekly tasks associated with assigned duties. Blocking out time on the calendar and coloring coding different types of tasks allows you to track you time and prevent others from schedule meetings when you need to focus on important work. You can use these tricks later for annual reviews, instead of having to wade through emails. One participant mentioned a LinkedIn Learning course on time management by Dave Crenshaw as a good resource.
We also discussed ways to deal with interruptions, especially the little ones at your desk when you are in an online meeting or working on something that needs your focus. Some of us work in open offices or at desks with direct access to the public and find it hard to have blocks of time that is not interrupted with directional or questions unrelated to libraries. Some suggestions included getting a sign that has "in a meeting", "feel free to knock", "do not disturb", tec. However, some participants have experienced patrons who ignore such signs. It was suggested that we look for a conference room or study room we can reserve for important meetings or blocks of time that we need to work uninterrupted.
Other times when it is important to say "No" is when a request is made for something the library does not provide, like proctoring exams, grading assignments, or paying for parking. It is important to say no and offer alternatives if we can. Sometimes the patron still seems unsatisfied with the answer, but is not always our responsibility to solve their problem.
Other pressures can come from colleagues who may not understand when we say "no." In the end, we are doing our best with the time and resources we have. We are all very different individuals, in different situations. We also have different life circumstances and on top of work demands, must maintain a work-life balance.
Here are some resources about saying "No," understanding our value and dealing with the guilt of doing your best and knowing you are enough.
Posted on | August 1, 2023 | 1 Comment
Name: Lise Bretton
Institution: Sharp Grossmont Hospital, La Mesa, CA
Title: Hospital Librarian
Brief description of what you do/your responsibilities at your institution.
I've become more of an information specialist, less a conventional librarian (but then again, I was never conventional).
Why is MLGSCA important to you?
As a solo librarian, I need as much support as possible from my colleagues. They inspire me and pick me up when I'm feeling discouraged.
What was your first library job or professional position?
I worked as a library assistant at University of San Diego's Copley Library.
What has been the most interesting project you have worked on?
Overhauling an entire library and transitioning it from Dewey to LC. It was certainly the largest project.
What do you consider to be the most pressing issues or trends in librarianship?
AI, technology in general. I highly recommend the Library 2.0 lectures on ChatGPT4. Especially if you're working as an academic librarian.
What is something you have on your bucket list?
Mastering AI, maybe getting into machine learning. Right now, I'm taking courses through Stanford that are fascinating!
What is the best thing you have read/watched/listened to recently?
Algorithms of Oppression/Succession/Avi Avital
Describe yourself in five words.
well-traveled, political, sarcastic, kind
What are you most proud of?
My intelligence. "The measure of an education is that you acquire some idea of the extent of your ignorance"–Chris Hitchens.
Posted on | July 7, 2023 | 5 Comments
Name: Ivan Portillo
Institution: Leatherby Libraries, Chapman University, Irvine, CA
Title: Coordinator of Rinker Campus Library Services
Brief description of what you do/your responsibilities at your institution.
I oversee all library services at the Rinker Health Science Campus at Chapman University. We have two library spaces on campus, one at the Campus Center and a second called the Health Sciences Study Commons, a study space that houses our physical library collection. I also directly supervise a health sciences librarian and full-time library assistant. The three of us, including a few student assistants, help meet the information and research needs of faculty, students, and staff of the School of Pharmacy and Crean College of Health and Behavioral Sciences.
Why is MLGSCA important to you?
MLGSCA is important because it has provided me with many connections to local librarians. I have worked in three health science/medical libraries in Southern California, some with fellow librarians and others without. With MLGSCA, even if I were to be a solo librarian again, I know I can reach out to a local librarian for guidance or support.
What was your first library job or professional position?
My first library job was as a student assistant at the Cal Poly Pomona University Library. My very first professional position was as the Head Librarian at Mt. Sierra College, an art school that is no longer active.
What has been the most interesting project you have worked on?
The most interesting project may be the one I'm currently working on: expanding library services at my campus. We're opening a new building and a new library space, which will change how we serve our users. We're also getting new AR/VR headsets, which satisfies my tech geek interests.
What do you consider to be the most pressing issues or trends in librarianship?
To adapt to the ever-changing landscape of information and how our users gather their information. With AI becoming more common to gather and create information, as librarians, we must keep up and learn how to teach our users how to best use this new technology. Librarians should also use these new technologies to our advantage for outreach, teaching purposes, or other practical uses.
What is something you have on your bucket list?
Ditto to Rikke's response. Visit all 7 continents. I've been to 4 so far.
What is the best thing you have read/watched/listened to recently?
I recently wrapped up Succession on Max. It was very satisfying to watch and hope that I will never be in a similar situation.
Describe yourself in five words.
I am an outgoing introvert.
What are you most proud of?
I'm proud of my parents for coming to this country in the late '70s from Mexico and El Salvador. Neither of them finished high school, but their ambition for a better life for themselves and our family has allowed me to be a first-generation college graduate. Now that I work in higher education, I mentor or help students in similar situations so that they can succeed as well.
Posted on | June 14, 2023 | 3 Comments
MLA/SLA 2023 Conference Reflection from Erin Moore, Banner Health
While I missed the window to book a room at the official conference hotels, I was pretty jazzed to land a centrally-located Airbnb spot at the Detroit City Club Apartments. I wound up saving $200 on the cost of lodging. That's a full week's worth of daycare. I'll take it. My elevator ascent to the 29th floor produced a nice view of the city and I was super close to all the things downtown. Score!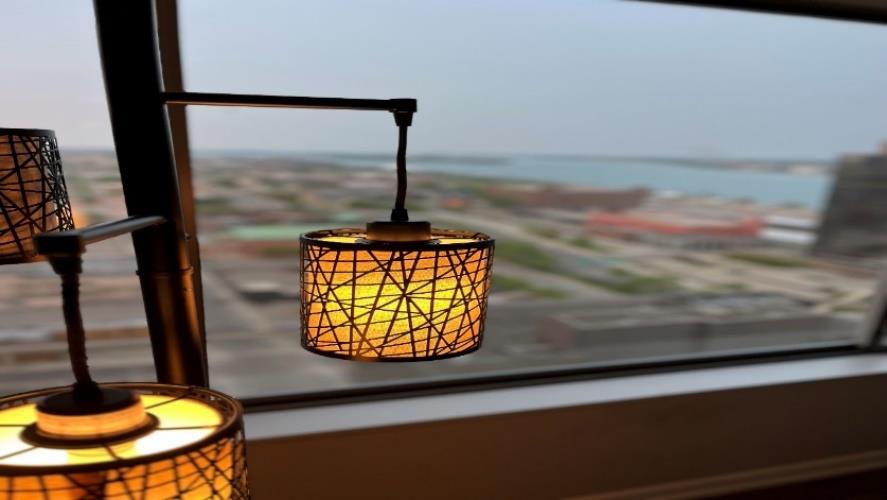 The convenient location was not eclipsed by my fear of being inside of a building that collapses. I write this report just two days after one of the historic buildings in my hometown, known simply as The Davenport, named after its namesake city in my home state of Iowa, has partially collapsed. Somber times here along the Mississippi River in our close-knit community.
Reflections on the Conference
Please know that I'm sharing some highlights rather than a linear presentation of my experience. After a full week and a half to process, I've reflected on the high points.

My morning walk to the Huntington Center turned out to be a highlight of my experience. I loved the energy and anonymity of walking alone in the city. When I arrived at the Huntington Center, I had yet to check-in at the registration desk. Setting foot in the large space, I saw what appeared to be thousands of librarians authoritatively spilling out into the tributaries of the conference center, ascending and descending escalators wearing lanyards, fully nourished, and carrying swag bags.
Practicing the "San Diego Stroll" (the antithesis to the frenetic midwestern shuffle I once exhibited as an Iowan), I made my way into the Grand Ballroom for the first time. An open floorspace along the periphery presented itself and I obliged. I appreciated having the chance to shift around in my body, activate my sleepy muscles, and forego the chair. I'd like to think it's a good move: Sitting Rising Test, anyone? Henceforth, find me on the floor at an MLA conference in the future.
Bright Light
It was important for me to be guided by curiosity and captivation. Putting that intention into practice is another story. I began asking myself a couple of questions with each session I attended: "Is this resonating with me? Why or why not?" If the answer was "no", I made a silent deal with myself to surrender my chair or standing space and find something that did resonate.
A concrete example is helpful. At one point, I had plopped down in a session about collection development that, while informative, wasn't particularly meaningful to me in the moment. I came to the conference for connection, to feel a spark of inspiration. Scrolling through the app, a different session beckoned to me from the 1st floor where I found myself in the presence of powerhouse presenter, Kawanna Bright, PHD at the helm of a packed room. Bright was facilitating a leadership symposium called "It's Not Them, It's Us: Understanding and Addressing the Factors that Negatively Impact the Recruitment, Hiring, and Retention of BIPOC Librarians". Not only was Bright a force, but the conversation that she facilitated was energizing, challenging, heartening.
Long-interested in how librarians can interrupt the status quo, especially through hiring and retaining BIPOC librarians, I participated in discussions on removing barriers to achieve the equity we claim to value in this profession. Around the issue of retention, we discussed real and lived experiences that spoke to:
disconnect between library staff and library management
feeling unvalued
not feeling as though we can fully utilize our skill-sets and talents
being overextended and overworked
not being able to say 'no' when overextended
being automatically assigned to lead or participate on diversity-themed committees
tolkenism
microaggressions and overt discrimination (for example, a Black academic librarian presumed to be a janitor – highlighting multiple layers of bias
isolation; lack of a community
feeling the need to prove oneself or "represent" for an entire ethnic or cultural group
unconscious bias
maintaining harmful traditions to the detriment of others (promoting within instead of inviting all to apply to positions)
This session had me chatting with the folks at my table and scrutinizing and interrogating the "good fit" trope that haunts library job ads. Having a chance to prioritize and discuss these issues –and my role within these systems–was invaluable. Why aren't we discussing these issues in our own libraries? I've been a professional librarian since 2009 and don't recall a head-on discussion initiated by library leadership. If the library isn't a safe space to address these issues, why stay? Elephants in the room, and such.
These conversations that should be normalized are already taking place in the critical librarianship literature (#critlib) and elsewhere. Writing as a librarian with several protective layers of privilege (white, middle-class, cis-gender, non-disabled), I can say that there are a lot of us white librarian ladies reproducing ourselves in this space and benefiting from said reproduction while also purporting to value equity, inclusion, representation. Can we talk about how reproducing the status quo does not further the progression of this profession to be the best version of itself? Still thinking about that session over a week later. That's how you know it was good.
Connection & Self-Awareness
Feeling invigorated, I found my way into my next session. Engaging presenter, Mari Anne Snow gave us great content and practical tips in "Re-Thinking the Definition of Community and Connections in a Virtually Connected World". She immediately asked us to set our devices aside. She commanded our attention: if we are leading in team environments, we need to directly ask for attention and engagement and provide the opportunity to do so. Seems so simple we forget to do it!
One of the things that stuck most was learning how, more than anything else, our state of mind is what sets the tone for digital communication among co-workers and clients. In other words, we see things as we are and not as they are. To boot, the residue of a negative interaction sticks around and taints subsequent exchanges in the online environment . You can extrapolate from there how easy it is for interpersonal communication to go awry in online environments.
How do we course-correct? One tip is to know yourself and call a person or schedule a face-to-face call to create goodwill or foster clarity. Online environments can further muddy the waters of professional communication and relationship if we continue to forego direct forms of communication (phonecall, video call). Practicing self-awareness is critical so you can be purposeful and proactive. I would have liked to delve into how to cultivate critical self-awareness; but that was a bit outside of the scope of the session. There is a stellar self-paced course available from MLA's MEDLIB-ED called "Getting Better at Everything You Do: Reflective Practice for Health Science Librarians". Highly recommended, especially if you're into praxis, journaling, reflection.
Radical Empathy & Vulnerability
The conference app had a useful discussion feature that served its purpose well during Dr. Terri Givens presentation on Radical Empathy and the publication of her book. Her heartening talk was refreshingly conversational. I appreciated that the panel hosts didn't stifle the conversation: instead, moderators posed all or most of numerous questions that came in through the app, prioritizing those that received "upvotes". Dr. Givens beautifully demonstrated how to practice the vulnerability and empathy she advocates for.
What do you do after an inspiring talk on vulnerability? You put yourself out there and go have dinner with people you just met, of course! After delicious tapas at Townhouse, we ventured back to the Grande Ballroom. By day, it had housed hundred (thousands?) of librarians and esteemed keynote speakers. But by night? The space transformed into a under the glow of geometric lights and with a great DJ. It was my understanding that SLA's annual conference culminates in these famous dance parties, and now MLA members got to experience that, too. "All Night Long," performed by the Mary Jane Girls (written by Rick James and covered many times, notably a live performance of Boogie Nights/All Night Long by Erykah Badu in 1997) really set the tone for the rest of the evening. It was high time to ditch the lanyards and let loose.
An after party was organized as we sashayed down Congress street. No one could have predicted we'd end the evening at 1am at Checker Bar. Several SLA librarians took their turns belting out classics, among them Journey's "Don't Stop Believing", Talking Head's "This Must Be The Place" and Bikini Kill's "Rebel Girl". At one point, I witnessed a mosh pit dominated by bibliophiles. A few chatted with Marvin, a local man who was singing throughout the night. To say he was beside himself in the presence of 3 tables full of librarians is an understatement: "Wait," he said in disbelief, and gestured toward the sizable crowd of librarians. "All of these people are librarians?!" "It's true," I said. "Well, you all are the sexiest librarians I've seen in this bar!" Also true, Marvin. Also true.
My adventure at the MLA/SLA 2023, conference, with a theme of "Looking back, forging ahead," was memorable; but I was sad I didn't get around to checking out the Hitsville USA Motown Building. I will say that this conference was special in another way. For the first time, I got to meet my co-worker, Amy, in person. "You're taller than I thought you'd be," she said. I laughed: "Well, you're shorter than I expected". Amy's larger-than-life presence in the online environment seamlessly translated over to the physical environment. She fearlessly approached the microphone during the Q&A portion of the sessions we attended together. There's much to be inspired by there. I half-expected a mic-drop, Amy!
Posted on | June 2, 2023 | 1 Comment
Name: Sondhaya "Sunny" McGowan
Institution: Scripps Mercy Hospital, San Diego, CA
Title: Manager, Medical Library
Brief description of what you do/your responsibilities at your institution.
I am responsible for the daily operations of two hospital libraries in the Scripps Health system. I have a small, but mighty team comprised of 2 medical librarians, a library technician and a volunteer library archivist. We help guide our health care professionals to utilize the knowledge-based tools offered through the library and provide research support for continuing education and evidence-based practice.
Why is MLGSCA important to you?
I've been a member of MLGSCA since I was in library school and the organization has offered me so much in terms of knowledge and networking opportunities that I found more accessible than the national organization, MLA. It was MLGSCA that really helped propel me into this career.
What is your advice to someone new to medical librarianship?
Definitely join and participate on professional library associations like MLGSCA to stay connected with your peers. You can learn a lot from them, I know I have!
What has been the most interesting project you have worked on?
During the pandemic, I was involved on two task force projects for the Hospital Library Caucus of MLA. Developing the Hospital Library Caucus Advocacy Toolkit on LibGuides and updating the Standards of Practice for Hospital Libraries and Librarians, 2022 published in JMLA.
What do you consider to be the most pressing issues or trends in librarianship?
Make it a practice to learn new things, embrace change, and innovate! As much as librarians are great at knowing and doing it all, AI-technology will challenge us in good ways and maybe not so good. Use your knowledge-seeking talents to stay relevant, and it may mean reinventing ways in how we continue to meet the information needs of our stakeholders/clients/patrons/community.
What is something you have on your bucket list?
Lord of the Rings tour in New Zealand. I wanted to visit New Zealand way before the LOTR movie came out, so I would probably appreciate it more if I could visit the locations where the movies were filmed!
What is the best thing you have read/watched/listened to recently?
I can't remember the last time I read anything for fun apart from the journal articles and newspapers I read for work. As far as TV shows go, the last series I watched was "Star Trek: Picard" and I thought was a great tribute to ST:TNG, which is pure nostalgia for me. Also, I have jumped on "The Last of Us" bandwagon not because of the video game or zombies, but I am a fan of Pedro Pascal!
Is there anything about you that others would be surprised to know?
In 2019, the husband and I renewed our 5-year wedding vows in Las Vegas during the Rock 'n Roll Half Marathon "Run Thru Wedding" at mile 2.7! I wore a white tutu and a veil, and the husband had on a mock tuxedo t-shirt and shorts. The "Run Thru Wedding" was so well-coordinated that our guests had a viewing area where they can watch us exchange vows. There was even an officiant present! It was truly a memorable and heartfelt event, then we had to finish the rest of the race!
keep looking »