Posted on | July 21, 2022 | No Comments
Hello everyone,
The Network of the National Library of Medicine (NNLM), has created a series of consumer health classes for anyone interested in consumer health information and outreach. CHIS On Demand is comprised of 5 separate classes which cover the critical, need-to-know content related to the 5 Level 1 CHIS competencies:
1)   Know the Community
2)   Know the Health Consumer
3)   Knowledge of Subject Matter and Resources
4)   Evaluation of Health Information
5)   Communication, Reference, and Instruction
The series of classes can be completed in any order. You can take 1 or all the classes. Each is designed to take 1 hour to complete.
We also want you to know that NNLM will also help you in obtaining CHIS (Consumer Health Information Specialization) by covering the application fee for level 1 or level 2. This includes those renewing their CHIS.
Register for CHIS On Demand
Learn more about the CHIS Specialization and how to apply for NNLM to cover the application fees on the NNLM Specialization page.
Posted on | July 12, 2022 | No Comments
Greetings and welcome from your MLGSCA 2022-2023 Officers.
We will have our first MLGSCA Advisory Council (AC) Meeting this Thursday, July 14, from 10-11 am PT. All are encouraged to attend. The link to the meeting will be send to the email list.
Future AC meetings will be held monthly, on the 2nd Thursday of the month from 10-11 am PT. A link to the meeting and the agenda will be sent to the MLGSCA member list shortly before each meeting.
We looking forward to working with everyone this year!
From our By Laws:
Section 1. Advisory Council
The elected officers of this Chapter shall constitute the Advisory Council. The Archivist, Representative to the RML Advisory Committee, and Committee Chairs shall serve as ex- officio non-voting members of the Advisory Council.
Elected Officers of the Chapter:
Judy Kraemer, President
Angela Murrell, President-Elect
Rikke Ogawa, Past President
Janet Crum, Secretary
Kevin Pardon, Treasurer
Danielle Linden, MLA Chapter Council Rep
Mary White, MLA Chapter Council Rep-Alternative
Posted on | June 29, 2022 | No Comments
The July NNLM Region 4 Connections webinar, Stuck on a Cruise Ship – How to Help Aspiring Health Professionals Through HOSA, is scheduled for July 14 from 12-1 MDT/11-12 PDT. Come hear K-12 librarians and school faculty describe their experiences as advisers to local chapters of the Health Occupations Students of America (HOSA). This session is presented in association with the HOSA – Future Health Professionals and the National Library of Medicine to build digital medical literacy and give students NLM ambassador certification. Participants will receive access to free lesson plans and learn how to access credible, research-based online content.
NNLM R4 Connections webinars are free and open to all. Learn more/register here.
Posted on | April 6, 2022 | No Comments
At the May 12 NNLM R4 Connections meeting (11:00 AM MST), Jaena Alabi will give a talk entitled, "Racial microaggressions: Their effects on mental and physical health." The talk is free and open to all; register at https://nnlm.gov/training/class/r4-connections-racial-microaggressions-and-cultural-competence.
In this session, guest speaker Jaena Alabi will present a brief history of racial microaggressions research, focusing on the negative mental and physical health outcomes associated with experiencing subtle racism.  Strategies for mitigating the negative effects of racial microaggressions, such as incorporating cultural competence into one's practice of librarianship, will also be shared. 
This session will be eligible for MLA CE credit (details TBD). Please join us!
Posted on | April 6, 2022 | 1 Comment
This applies to the California members of MLGSCA.
NNLM Region 5 is happy to provide access for our network members to the following Medical Library Association webinar:
Librarians and Systematic Review Teams: Negotiating Roles and Recognition  – April 13th, 11am – 12:30pm PDT | 10am – 11:30am AKDT | 8am – 9:30am HST | 7am – 8:30am SST | April 14th, 4am – 5:30am ChST.
If you would like to attend live or watch the recording later, please have each interested individual register here by April 12th to guarantee your spot.
Region 5 of the Network of the National Library of Medicine, includes Alaska, California, Hawaii, Nevada, Oregon, Washington, or U.S. Territories and Freely Associated States in the Pacific.
Posted on | March 3, 2022 | No Comments
The Network of the National Library of Medicine Region 5 (NNLM Region 5), under cooperative agreement with the U.S. National Library of Medicine (NLM), is excited to announce a new award designed to support Region 5 members' attendance at the virtual MLA Annual Meeting. Organizations in Alaska, California, Hawaii, Nevada, Oregon, Washington, U.S. Territories and Freely Associated States in the Pacific are eligible to apply.
MLA Virtual Conference Registration Award: Up to 20 members will receive a registration code for the virtual 2022 Medical Library Association (MLA) Annual Meeting. To apply you will complete a brief application, estimated to take 5-10 minutes. Awardees will be asked to report back on their MLA experience through participation in a future online Region 5 meeting or by writing a post on the Region 5 blog.
Application Deadline: March 18, 2022
This award supports the mission of the Network of the National Library of Medicine (NNLM) which is to provide U.S. researchers, health professionals, public health workforce, educators, and the public with equal access to biomedical and health information resources and data.
Questions? Contact Daina Dickman, Assistant Director at ddickman@uw.edu
Posted on | February 16, 2022 | 1 Comment
Jillian Underwood-Jenkins is this year's recipient of the MLGSCA scholarship. She is currently in the MLIS program at San Jose State University while working for the City of Oceanside in the City Clerk's office as an information liaison between the public and the city. She is also a participant in a virtual internship with Judy Kraemer at St. Mary Hospital in Long Beach. In this role, Jillian has assisted Judy with various projects such as cataloging, and the refreshed design of the COVID-19 portal on the library website. Congratulations to Jillian on her continued studies and the advancement of her career!
Posted on | February 14, 2022 | No Comments
Our own Ellen Aaronson has a featured article on the MLANet blog about MLA's new advocacy statement, "Partner with Hospital Libraries to Improve Patient Care." Developed jointly by the Hospital Library Caucus and the MLA Board and endorsed by several national organizations, the statement aims to educate hospital administrators on the critical role of hospital libraries and librarians in improving patient care and reducing costs. Ellen's article, "MLA Urges Administrators to Fund Hospital Libraries and Staff," includes a link to the statement along with additional information about how it was developed and recommendations for how we can advocate for hospital libraries.
Congratulations, Ellen, and thank you for your work on behalf of hospital libraries and librarians!
Posted on | February 11, 2022 | No Comments
The nomination deadline for the Louise Darling Achievement Award has been extended until March 15.
Purpose of Award
The purpose of the Louise Darling MLGSCA Achievement Award is to honor significant contributions to health sciences librarianship, as well as to the Medical Library Group of Southern California and Arizona.
Criteria for Award
1. Candidate's contribution is significant towards the advancement of health sciences librarianship through the endeavors of the Medical Library Group of Southern California and Arizona.
2. Candidate's contributions include, but are not limited to: service, publications, presentations, and projects.
3. Candidate must hold membership in MLGSCA at the time of election and be a member for a minimum of two years.
The award is usually presented by the President during the Spring Meeting and is announced in the Newsletter following the presentation. The recipient will receive $500.00 and a commemorative plaque. More information and a nomination form can be found at the MLGSCA website:
https://mlgsca.mlanet.org/beta/index.php/awards/louise-darling-achievement-award
Posted on | January 27, 2022 | No Comments
The January 13th NNLM R4 Connections meeting featured guest speaker John Bramble, who shared the "Funding Opportunities" that exist through NNLM Region 4 and shared examples of projects that have been funded.
Of special interest during the pandemic, is a New Award Type 4 for online conference registration costs for Region 4 members interested in attending an online workshop, conference, or meeting.
To watch a recording of the meeting and find out more about the funding and other opportunities for Arizona members of MLGSCA, check out the NNLM R4 blog post.
Posted on | November 12, 2021 | No Comments
One of MLGSCA's very own, Ivan Portillo, recently published a paper with 2 colleagues on the quality of consumer health information websites found when using Google. I'm sure we can all speculate on what some of the result might be.
However, you will need to read the paper to know for sure!
Ivan A Portillo, Catherine V Johnson, Scott Y Johnson. "Quality Evaluation of Consumer Health Information Websites Found on Google Using DISCERN, CRAAP, and HONcode," Med Ref Serv Q. Oct-Dec 2021; 40(4):396-407.doi:10.1080/02763869.2021.1987799.
Congratulations, Ivan! Great work.
Posted on | September 28, 2021 | No Comments
Samantha Garcia of the Lee Graff Medical and Scientific Library at City of Hope in Duarte, California, is this year's recipient of the MLGSCA Library Staff Excellence Award. Samantha, who has worked at City of Hope for 16 years, was nominated by her colleague Jeanette Duffels. Samantha was recognized not only for her consistently excellent service throughout her time at City of Hope, but also for her adaptations to ensure continuity of library operations during the pandemic. Samantha's award was announced a virtual meeting of her team, and Jeanette delivered a commemorative plaque and a $250 check from MLGSCA to her home. Congratulations to Samantha for this well-deserved recognition.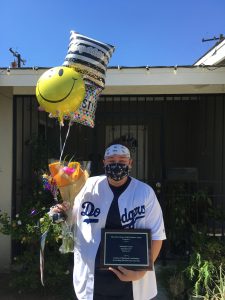 « go back
—
keep looking »